On Monday, Governor Larry Hogan proclaimed June 28, 2021, "Freedom of the Press Day" in honor of the five Capital Gazette employees who were murdered in the newsroom: Gerald Fischman, Rob Hiaasen, John McNamara, Rebecca Smith, and Wendi Winters.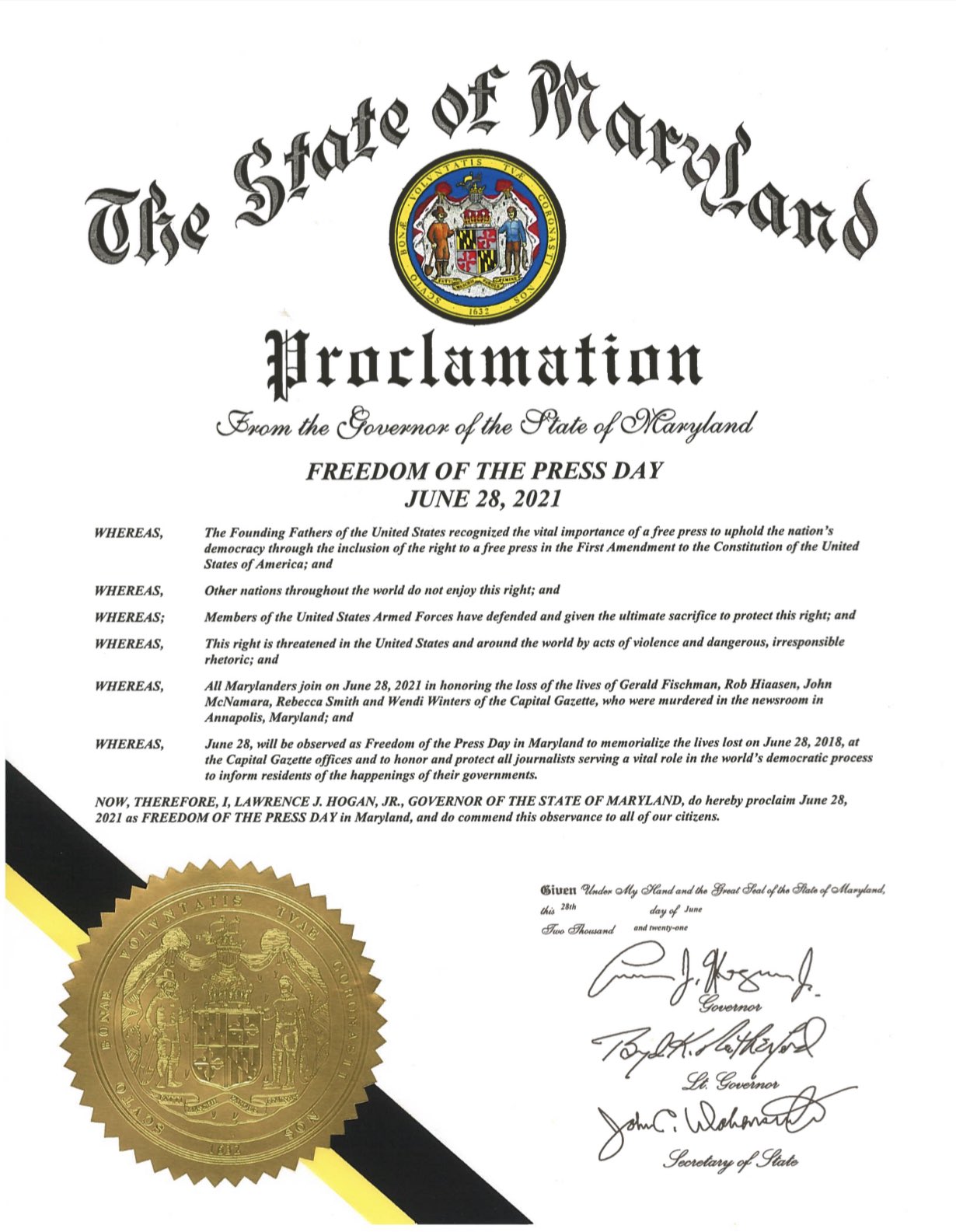 "It has now been three years since five employees of the Capital Gazette lost their lives in a horrific act of violence," said Governor Hogan. "Today, as we dedicate a new memorial in their honor, we are reminded that our First Amendment—and our democracy itself—depends on a strong, vibrant, and unfettered free press. We must all continue to work hard to guard and defend that at all costs."
Unveiled Monday, on the three year anniversary of the shooting, the 'Guardians of the First Amendment' memorial sits in Newman Street Park as a reminder of what happened three years ago at the Capital Gazette and the importance of the freedom of the press.
According to WMAR's Abby Isaacs:
[The memorial] consists of a large wall with the words of the first amendment inscribed on it, a bronzed version of the first page of the Capital Gazette the day after the shooting and five pillars to represent each victim.

The project was a community-wide effort between state and local leaders, nonprofits and donors, supported by the Caucus of African American Leaders and initiated by the Dr. Martin Luther King Jr. Committee because they knew some of the victims.
According to The Baltimore Sun:
The design evolved over two years to emphasize the First Amendment over individual victims. The 2018 shooting has been cited as the most violent attack on journalists in U.S. history. Jay Graham, principal landscape architect, said the design respects Baltimore Sun Media's position that journalists represent the communities they cover and are often uncomfortable being the center of a story themselves.
View the Governor's proclamation.
View the full WMAR article.
Views the full Baltimore Sun article.